Step 1: Warehouse Configuration
How to Bulk Delete Records in Infoplus
Learn how to utilize the Bulk Delete option found in the Action's menu on various Infoplus tables!
How to Bulk Delete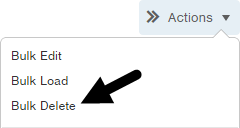 Depending upon the table, you can delete multiple records using the Bulk Delete action.
Access the table containing the records you want to delete.
Select the records you want to delete by clicking the checkbox next to each record.
NOTE: You can select all records that are displayed by clicking the checkbox in the upper left corner:




If the list of records exceeds the page limit (i.e., 20 records), a message will appear at the top indicating that you have only selected the records on this page and a link allows you to select all records.

From the Actions drop-down menu, select Bulk Delete. The Review step in the Bulk Delete process appears in the top right:

Review the records to be deleted. If correct, click Next at the bottom of the window. The records will be deleted.
Click Done to the table.