Put Away work tickets are automatically created after a receiving worksheet is closed. Learn how to print them for warehouse workers.
Once a Receiving Worksheet has been closed (which indicates that the items in the receiving worksheet are accurate), "Put Away" work is created. Put Away work tickets can now be printed from the Receiving Worksheet. Here is a sample Put Away work ticket: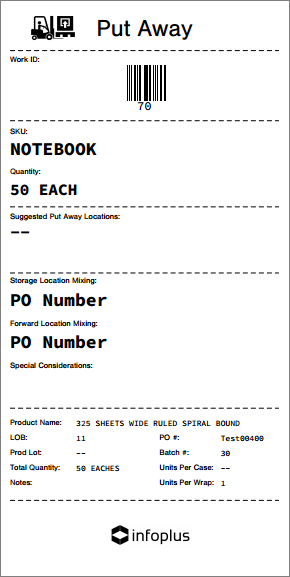 NOTE: You can print Put Away work tickets from the "Work" table (where all work tickets can be printed), but printing work tickets from the Receiving Worksheet automatically prints ALL tickets associated with the items in the worksheet, using any established Put Away Plans.
Print Work Tickets from the Receiving Worksheet
Access the "Receiving Worksheet" Table. Two methods:
- From the Dashboard: click the "Warehouse Operations" Tab, click the "Receiving" App, then click the "Receiving Worksheet" Table.
- From the Quick Actions shortcut: Press a dot (.) on your keyboard, then select "Receiving Worksheet" from the list of Quick Actions.
Click on the Receiving Worksheet for which want to create work tickets.
In the Documents section of the worksheet, click the Put Away Work link.
Click the Download Report button to download a PDF file containing all of the worksheet's work tickets.
NOTE: The file is also available via a link that can be shared with others (even those who are not using Infoplus).