As an Infoplus user, you may encounter challenges with Fulfillment. This guide will walk through step-by-step fulfillment troubleshooting.
Fulfillment is the backbone of any warehouses' operation. If you run into issues with your Fulfillment Plan or Process, it can be very frustrating and even cause a halt to production in multiple areas of your operations. This article will lay out some common solutions related to Fulfillment and a step-by-step guide to getting fulfillment back on track.
How to Use This Guide
Below, you will find multiple different scenarios that could potentially cause issues with Fulfillment in Infoplus. You can use the table of contents below to quickly navigate to the exact question you are interested in. Each issue has multiple troubleshooting steps to help you independently get to the bottom of the issue you are experiencing and solve it so you can move forward with your operations.
---
Table of Contents
---
Order still says 'On Order' after running Fulfillment
Head to the fulfillment process table and click into the process that had an error.
Click "view details"
Depending on what is missing the entire order may need to be edited.
---
Why did my Fulfillment run using V1 instead of V2?
Check your fulfillment plan setup to verify it was not set to use V1
Check to see if the order's line items contained any substitutes or supplements.

See more information on Fulfillment Plans and V1 vs V2.
---
Why aren't all of my Fulfillment Plan appearing when I click 'Run Fulfillment'?
Check your User Profile by selecting the avatar in the top left corner and clicking "Profile"; if there are any warehouses assigned to you, you will only be able to see information pertaining to that warehouse, including Fulfillment Plans that are attached to that warehouse
If there is no warehouse assigned to your user, navigate to your Mobile Apps and check if you are currently within any warehouses. If so, you will only see information about that warehouse even within the Desktop app, and you will need to log out of Infoplus and log back in.
---
Why are orders that do not fully allocate still included in the Fulfillment Plan to be partially fulfilled?
Check your Order records if "Ship Complete" is set to "True" or "False"; if this is set to False, orders are allowed to ship with missing inventory. If you do not want orders to ship unless fully allocated, set this to "True". This will then put orders back "On Order" if full inventory is not available.
Check your Item records on the orders if "Backorder" is set to "Yes" or "No"; if this is set to "Yes," then backorders may have been created for these items on the orders.
---
Received the Error: 'Un-allocatable inventory for SKU BOOK-1. Removing this order from this process', but I verified that my item has Inventory. How do I fix it?
Check the Audit on the Fulfillment Process for any error message
If there aren't any clear error messages, go to the Warehouse Location where the SKU resides
Check the Behavior Type of the Location

Is it set to 'Forward Case'?
If so, to allocate any product in a Location with a behavior type of "Forward Case", a lot of things have to line up:

The Item must have:

"Casebreak Enabled" set to Yes

The Item Receipt must have:

Units Per Case
Case Weight
Height
Width
Length

The "Picking Rule" on the Fulfillment Process must "Simple Wave With Casebreak"

Rerun the fulfillment process
---
How do I set a filter for just orders that need to ship tomorrow?
Go to the Order table
Add the filter "First Ship Date"
3. Go to the Advanced Dropdown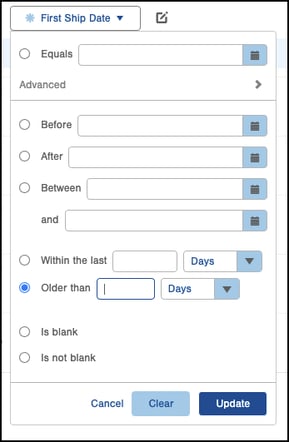 4. Add -1 Days to the Older Than filter then hit Update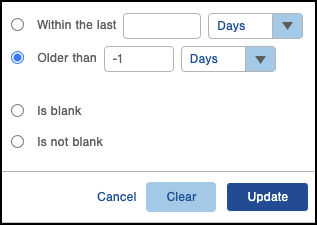 5. Verify your change that you are indeed seeing orders for tomorrow.

6. Save as a Smart Filter
7. Apply to your fulfillment plan
---