There are different strategies used for picking. If you use a cart, there are still a few ways to organize both your cart and your route.
Pick carts are mobile carts that have multiple cart locations or "positions" on them that are barcoded. While you are picking you can assign Orders or SKUs to the cart locations and presort your Orders or SKUs.
Example of what a pick cart looks like: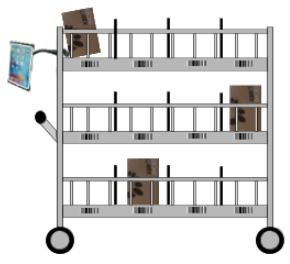 Different Types of Pick Carts
Static Cart
Static Carts are mobile pick carts that the cart locations never change and are "static" (eg Cart A will always have cart locations POS-1, POS-2, POS-3).
Dynamic Cart
Dynamic Carts are mobile pick carts that the cart locations can and will change. You can use a box, milk crate, or something similar in size, that has a barcode that is unique to it. Then the cart locations can be assigned when the dynamic cart is selected in the Mobile Find Work App for Picking.
Next, you need to create your Pick Carts. Here is the article that will walk you through that process.