Infoplus now has the ability for you to create Warehouse Loads, to track your outbound pallets, master cartons, and staged cartons, along with GS1-128 labels for your EDI / big-box retail orders. In addition, you now have greater control over how you rate shop in Infoplus, and we have one bonus update to help you get ahead of your fulfillment processing.
Product Updates
Warehouse Loads (Pallets, Master Cartons, Carton Staging)
To support outbound pallets and master cartons, as well as staged outbound cartons, Infoplus has developed a new record type known as Loads. Using Loads you'll be able to:
Track your pallet shipments (which can span multiple orders)
Create and ship master cartons (also spanning multiple orders)
Put away pallets, master cartons, and staged cartons into warehouse locations
See full packing details through all of these shipment levels (and flow this data into EDI 856/ASN documents)
Loads in Infoplus are created and managed in the new Warehouse Loads Mobile Floor App: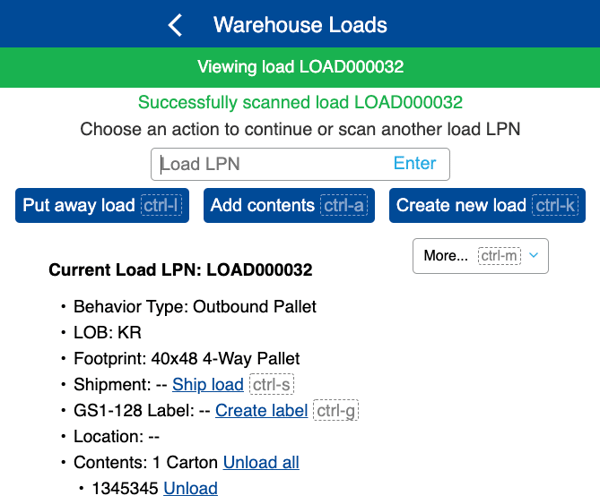 The ability to use Loads has also been integrated into the Pack Station, where you can easily add a closed carton to a load, and into the Ship Station, where you can scan a load to ship it.
Packing Details Table
Along with the Loads feature, there is now a Packing Details table which gives you full visibility to how your orders are packed into your loads, and at all levels, including cartons, master cartons, and pallets. Using this table, you can know what items shipped in what packaging, and you can share that data with your customers and partners.
Read more about Loads on the knowledge base, or reach out to our support team if you have further questions.
GS1-128 Labels
Directly within Infoplus, you can now create GS1-128 Labels (aka UCC-128 labels), which may be required by your EDI partners and big-box retailers that you ship to.
You can fully customize your GS1-128 Templates to meet the requirements of your partners, with even more power available through Infoplus scripts.
GS1-128 Labels can be automatically generated when you run fulfillment, printed on-demand in the mobile floor apps, or produced in bulk actions within Infoplus.
Labels that you've generated are attached to your orders, cartons, and loads, so you can reference them later or re-print if needed.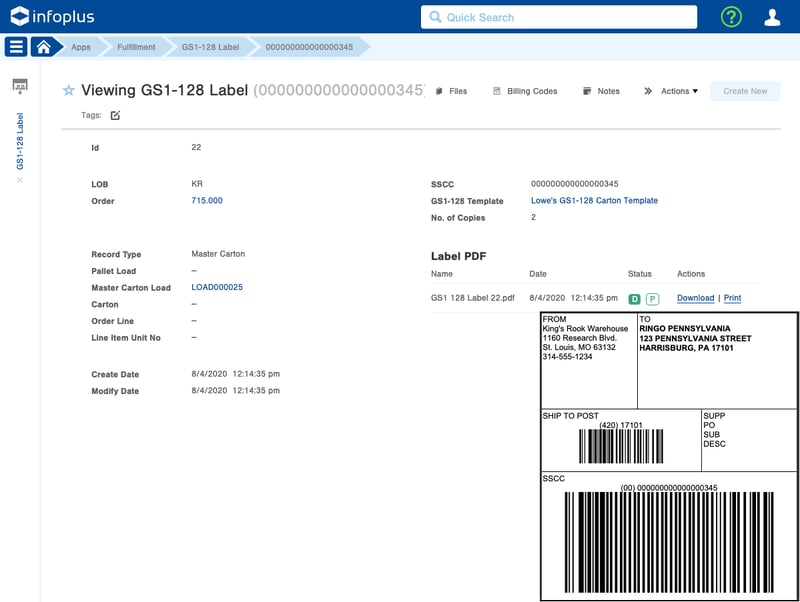 Learn how to get started with GS1-128 labels on the knowledge base, and let us know if you need more information.
Enhanced Rate Shopping
More flexibility and control has been brought to the Infoplus Rate Shopping feature so you can always ensure you get the best price on shipping and your items arrive on time.
You can now tell Infoplus what carrier services to compare with rate shop "Carrier" options.
Rate shop across multiple parcel accounts for the same carrier company (Ex: if you have 2 UPS accounts)
Set up rate shopping carrier configurations with more advanced rules, rather than just always choosing the cheapest service.

Ex: The "Fastest" rule, which will choose the fastest shipping option at the lowest price.
Or, use an Infoplus Script to add your own custom logic to rate shopping.
To implement these new features, define your own Rate Shop Carrier options using the Carrier table and choosing a Company of "Rate Shop". Then, select what services to rate shop when evaluating an order assigned to that Rate Shop Carrier, along with what Parcel Accounts to consider.
Please Note: Along with this change, the old Rate Shop Config table in Infoplus has been retired. The configurations that you previously had setup in that table have been automatically migrated to the new Rate Shop Carrier records.
Bonus Update
New Preview Fulfillment process
The new Preview Fulfillment process allows you to quickly evaluate a selection of orders to gain insight into various "what if" scenarios. Eg: you can select anywhere from one to 10,000 orders and discover what would happen if you tried to fulfill these orders right now.
The Preview Fulfillment process can answer questions such as:
How many of the orders will be processed, and how many will back order?
How much work will these orders create for my pickers?
If there are going to be back orders, what SKUs are the ones out of stock?
Would any orders fail to process due to unallocatable inventory (e.g., inventory in an LPN or a non-pickable location)?
What SKUs (and in what quantities) will I need to fulfill these orders, after Kits and Substitutions are applied?
You can download a spreadsheet with all of the data generated by the Preview Fulfillment process, so you can manipulate and analyze the data so it works for you.
New Knowledge Base Articles
Full Change Log
IPP-496 - Add Loads and GS1-128 Labels to Infoplus
IPP-541 - Update Rate Shopping to support "fastest" rule, scripts, multiple parcel accounts, and user-defined carrier service options
IPP-457 - Add new Preview Fulfillment process
IPP-352 - Add Order Property and Order Property Override tables within Infoplus
IPDESK-3474 - Corrected issues for new clients with Branding table
IPDESK-3444 - Fixed situation where an order with multiple un-allocatable items could cause an error in fulfillment processing
IPDESK-3484 - Corrected issue where Carton Type may not appear on some shipped orders
IPDESK-3480 - Improved error handling with Magento 2 order imports
IPDESK-3477 - Corrected situation where running an action on a Pending order could cause it to stay stuck in Pending status
IPDESK-3475 - Fixed ability to set Ops Display SKU field on Item table through API
IPDESK-3471 - Disabled LOB field on Warehouse bulk edit, as it did not have desired behavior
IPDESK-3454 - Improvements to 3PL Billing import of freight invoice charge fields
IPDESK-3442 - Better error message if an order doesn't have an assigned parcel account
IPDESK-3491 - Improved error message if running a Smart Filter that contains a disabled custom field
IPDESK-3488 - Fixed intermittent errors creating Order Assembly Guides
IPDESK-3460 - Improvements to releasing pick carts when used with Jobs
IPDESK-3458 - Fixes in External Shipping System integration with ShipStation where order numbers from other systems could overlap
IPDESK-3443 - Update to prevent creation of Cycle Counts for locations with items with Product Id Tags
IPDESK-3487 - Corrected scenario where Mass Distributions could be stuck in Pending status
IPDESK-3486 - Fixed situation where BigCommerce orders could be imported in incorrect statuses
IPDESK-3436 - Fixed Warehouse Document Script feature
IPDESK-3505 - Corrected scenario where fulfillment work could be cancelled when running Mass Distributions
IPDESK-3504 - Add fulfillability and fulfillabilityDetails fields to order api endpoint
IPDESK-3494 - Improve error messages for relative-date range queries that are missing parameters
IPDESK-3490 - Corrections with end-of-segment terminators in inbound EDI processing
IPDESK-3489 - Fixed commodityCode field in item api endpoint
IPDESK-3462 - Corrected rounding errors in 3PL billing backup documentation files
IPDESK-3516 - Add modify date field to Inventory Detail table
IPDESK-3512 - Fixed sending shipment advice to Shopify for Ontrac carrier
IPDESK-3506 - Bug fix when viewing user reports on-screen in-app if the report contains multiple columns with the same name