The recently released Infoplus Layout app is the final piece in a new end-to-end fulfillment workflow, with complete QC scans.
Product Updates
Layout app is a new option in the suite of Infoplus warehouse floor apps, that works with fulfillment processes that are using pick to cart by SKU, automatic cartonization, and layout by carton. Using this combination of features, you can optimize your pick, pack, and ship operations, and use full QC scans at every step.
This workflow also offers you the opportunity to apply value added services (such as tagging, labeling, or customizing outbound products), by giving you a step between pick & pack, while still maintaining integrity.
Layout app
In the Layout app, users start by scanning a pick cart. Then, Infoplus tells you to scan the locations on that cart, and for each cart location, which carton positions to pack the items into, scanning those carton positions or parcel labels as you go.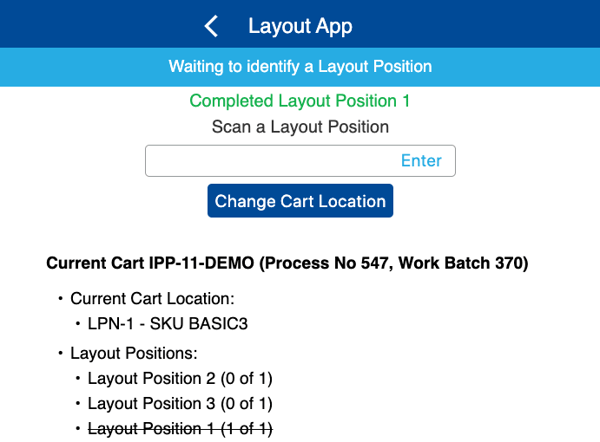 This feature is currently in a limited access preview. If you are interested in learning more and starting to take advantage of it, please reach out to our support team.
Full Change Log
IPP-11: Create new Layout app
IPDESK-3092 - Fixed errors when fulfilling orders from shopping carts, with multiple lines that substitute to the same item.
IPDESK-3087 - Fixed intermittent errors when creating new carriers.
IPDESK-3069 - Fixed issue with Replenishments, when picking less than the fully expected quantity
IPDESK-3063 - Updates to EDI 850 & 856 spec
IPDESK-3057 - Corrected edge case for inventory levels pushed to shopping carts for items involved in kits and order source reservations.
IPDESK-3056 - Updated external shipping system integration to allow sending orders assigned to non-parcel carriers.
IPDESK-3055 - Updated API to not attempt to 0-pad zip codes for international orders.
IPDESK-3049 - Corrected behavior of "Explode Kit Contents" = False in packing slip templates.
IPDESK-3048 - Fixed overriding item receipts for fulfillment for orders with duplicated SKUs.
IPDESK-3046 - Improvements to handling of multi-piece labels for Canpar and Purolator carriers.
IPDESK-2992 - Updated Serial No tab on order table to correctly pull in Item Serial values recorded against order.
IPDESK-3043 - Fixed issue where roles associated to user would not display if user email contained special characters.
IPDESK-3017 - Updated address validation for certain DPO addresses.
IPDESK-3009 - Corrected display of received quantities on ASN table.