This week's release is packed full of upgrades, new features and bug fixes. Allowing you to create and organize complex reports, generate more in depth barcodes and enhance warehouse operation productivity with Pick to Cart Shipping operations, monitor your shipping SLAs and more.
Manifesting Dates and Shipping Dates for Parcel and Mail packages
What's changed? Infoplus has been working with our customers to provide more insight into shipping SLA's and overall daily ship activity. With their help, we have made the following update to Orders.
The field which was previously called Ship Date has been relabeled as Shipping Label Date. This field captures the date that is printed on the shipping labels for your orders, and it may be in the past or future compared to when the order actually is recorded as shipped in Infoplus.
A new field has been added to orders, called Shipped Date, which captures the date and time of when your warehouse marked each individual order as being shipped. This is recorded not matter the method in which you ship the packages inside Infoplus. You can now use this field to get a complete picture of your warehouse's shipping activity in real time.
What does this do for you? You are now able to track in detail the shipments actually going out the door, not just the ones which were manifested and intended to be shipped today.
User Reports with Totals, Groups and Pivots Tables
Data is everything and getting access to your data is key for success day to day. With that in mind, the engineering team at Infoplus has been working hard to get the next version of User Reports out to our clients.
With this release, Infoplus is excited to release a Beta version of the User Reports feature that builds upon the already impressive feature list (User Defined columns, Custom Scripts, Open Scheduling, Share, and Multiple Export Formats (Excel, PDF, HTML, Email)) and add the next two great features; the ability to auto-total and create report summaries and totals, and the ability to create Pivot Tables and Group By Summary reports.
What's changed? On the "Create User Report" screen, you now have the ability to create either a "Data Report" or a "Pivot Report". Depending on which is selected, you then have the ability to further customize your report by defining the summary data or group/pivot columns.
The Details:
Data Reports - For data reports, you can now add a Footer Row, where you can configure the columns that you want to include a summary value. For example, you can see the sum of quantity on hand for an items report, or average number of line Items on an orders report.
Pivot Reports - You can also now create Pivot Reports directly from Infoplus, in the manage user reports screen. In a pivot report, you can choose the columns that you want to use for grouping your data, as well as the values you want to compute for those summary rows. For example, you can see your on hand inventory broken down and rolled up by warehouse, building, and zone. Or you can easily see the number of shipped orders by date.
When you create a pivot report from Infoplus, the Excel file that you can download will contain a both your full set of raw data, as well as native Excel pivot table, which can be used in Excel or uploaded to Google Sheets, with the full functionality intact. The PDF, email, and in-app view of a pivot report will only show the pivot table.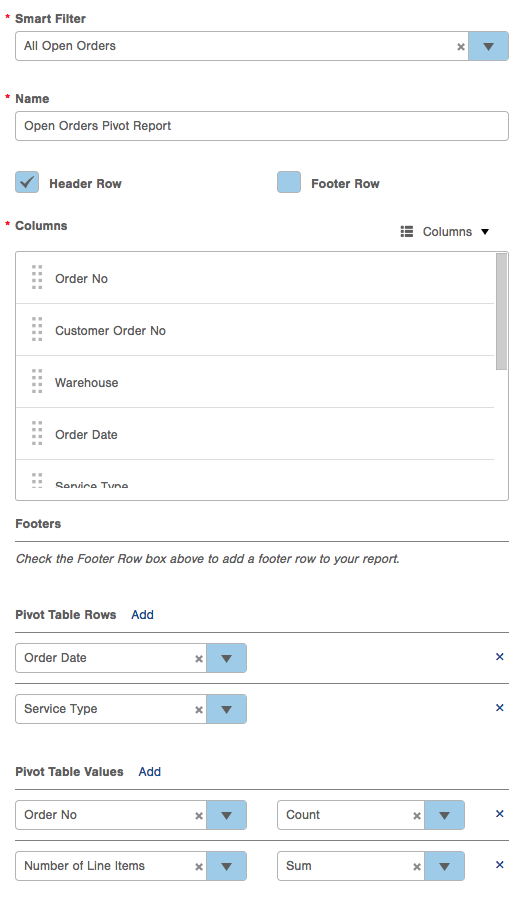 What does this do for you? Makes it easier to get get daily reports, dashboards, emails and summaries delivered to you ready to use without the need to additional steps in Excel.
Ability to generate and print Barcodes from the Warehouse Floor
Infoplus has added the ability for users to produce and print barcode labels at the time of receiving. You can use this feature to create barcodes for UPCs, SKUs, product ID tags, LPN locations, or any other value that's recorded at the time of receiving.
To get started, first make sure you have created barcode templates in Infoplus for the record types you want to print. You can reach out to our support team for help setting up your barcode templates. Then, in the receiving and shipping apps, after you have selected a record, press the "More…" button. Then choose "Barcode Templates", and the app will take you through the rest of the process. Note that you can produce barcodes for the ASN, the item receipt, the item, or the LPN location that are used for the receipt. The barcodes that are produced will be sent to your "Misc. Printer", as configured on the user profile screen for the device that you are using.
Ability to Ship all orders on a Pick Cart with a single click
A new ship orders option has been added to the manage carts warehouse app. This feature allows you to, in bulk, mark all orders on a picking cart as shipped, without having to run each one through the shipping station individually. To use this feature, your orders must already have their parcel labels generated.
Ability to Prioritize Work Batches on Work Tickets
You can now to prioritize work batches after running a fulfillment plan. You can create fulfillment plans dedicated to expedited service orders, and those orders show up as higher priority within the Find Work app.
Better Compatibility for Querying Data and Dates across Time zones
Infoplus has updated how it handles dates for customers with multiple facilities across time zones. This change will allow your local queries and filters to always run from your local time zone regardless of other locations. Making it easier and more clear across all searching dates in the system. Be on the look up for additional future enhancements to allow each warehouse to have its local timezone set, allowing you full control of how to record and recognize dates across all of Infoplus.
Fulfillment Plans - Ability to set a minimum batch size to be processed
A new field, minimum batch size, has been added to fulfillment plans and processes. You can use this feature to avoid creating "runt batches" with just a few orders on them.
Changlog:
IPWMS-9449: Update shipments table to show if it is a casebreak
IPWMS-9415: Add 'ship orders' option to Manage Carts app
IPWMS-9394: Pivot table and footer row in user reports
IPWMS-8950: Ability to print barcode labels from Receiving
IPDESK-1864: Date query time zone bug
IPDESK-1855: Third party parcel account bug when adding accounts
IPDESK-1850: Bulk load bug involving short-date formats from excel
IPDESK-1841: Improved messaging, tightened validation when attempting to products in a location with a different status
IPWMS-9502: Fix for users getting kicked out while doing fulfillment picks in app
IPWMS-9414: Support concept of a minimum batch size on fulfillment plans
IPWMS-9413: Ability to prioritize work batches out of a fulfillment plan
IPDESK-1862: ASN's resulting from Quick Receipts occasionally not reporting as Complete
IPWMS-9442: Add Per-UOM Inventory Numbers to Item table
IPDESK-1839: Override Item Receipts for allocation - including 0-quantity receipts
IPDESK-1833: BigCommerce is Not Updating Shipping Status Correctly
IPDESK-1831: Magento Multiple Line Items of the same Item not summing quantity
IPDESK-1828: Pre-allocation estimated weight not looking at Item weight for items which have no receipts
IPDESK-1874: Add field to orders to capture timestamp when order was marked as shipped in Infoplus.