Configure GS1-128 templates and labels by either order source or line of business for product visibility.
A GS1-128 Label is a document that allows for product visibility throughout the supply chain. The GS1-128 Labels are typically used on shipments used for FTL or LTL, and their usage is generally directed by the requirements of a retailer who is receiving a shipment. The document is sectioned into customizable zones.
NOTE: Infoplus intended use for GS1-128 labels is for them to be generated after a pallet or master carton is assembled that was implemented for Big Box solution through building out Loads (outbound pallets and master cartons).
What Makes Up a GS1-128 Label?
Information on a GS1-Label is fully customizable through the GS1-128 Template. The GS1-128 Template defines the layout for a particular GS1-128 label. The template allows for custom formatting and to call data throughout Infoplus using our API Reference. Information on a GS1-128 label may include the following:
Return Address
Shipping Address
Supplier Number
PO Number
Sub Number
Description
Ship to Post Barcode
For Barcode
Shipment Tracking Barcode (SSCC)
Configuration by Order Source
In Infoplus, you can specify which GS1-128 Templates are used for which orders by editing the Order Source table This will allow specific templates to be applied by Line on Businesses and Order Sources.
In addition to selecting which Template to use for each of the different levels (Pallet, Master Carton, Carton, or Line Item (Each)), you can also specify how many copies of each label should be automatically produced by Infoplus when labels are produced at each level. For example, you may need to produce 4 copies of each pallet label (i.e., one for each side of the pallet), and 3 copies of each carton label (i.e., one for top, front, and side). If you do not specify how many copies to produce, you will get 1 copy by default.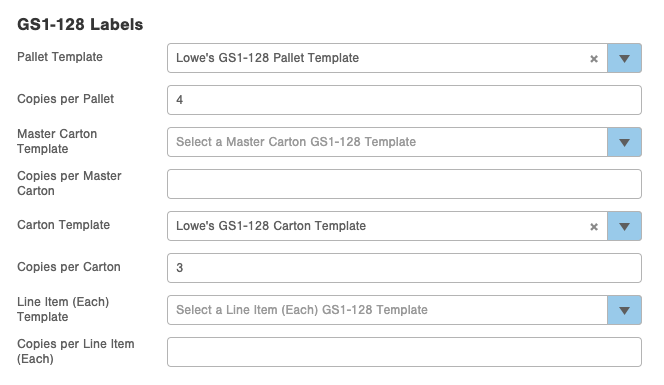 GS1 Company Prefix per Line of Business
The SSCC number that uniquely identifies all GS1-128 labels produced in Infoplus is based on the GS1 Company Prefix field from the Line of Business (LOB) table. To get started producing GS1-128 labels, you should edit your Line of Business(es), and specify the GS1 Company Prefix for the LOB.